There's no shortage of characters and Tv shows based on DC Comics in The CW's Arrowverse. And Black Lightning is one of them. The Black Lightning series created by Tony Isabella with Trevor Von Eeden and Salim Akil revolves around the eponymous character from DC comics. It stars Cress Williams as Jefferson Pierce, who gets in action to save his neighborhood from overflowing crime. The show has been going strong for four seasons. However, it has been about a year since season 4 aired, and fans have been waiting for Black Lightning Season 5.
Will The Be Black Lightning Season 5?
The fourth season of Black Lightning aired on The CW from February 8, 2021, to May 24, 2021. And as far as Black Lightning Season 5 is concerned, we have rather heartbreaking news for the fans. The CW has scrapped the series after the fourth season. This was announced before the release of the fourth season. Fans have been shocked by the announcement, especially since the network has not given any specific reason. However, many speculate that the declining reason might have been a reason.
Addressing the cancelation, creator Salim Akil said, "I'm incredibly proud of the work we've been able to do. And the moments we've been able to create in bringing DC's first African-American family of superheroes to life for the culture." Many fans do not know there was a spinoff planned for Painkiller's characters. But unfortunately, that too has been on the back burner ever since the cancelation of Black Lightning. 
What Could Happen In Black Lightning Season 5?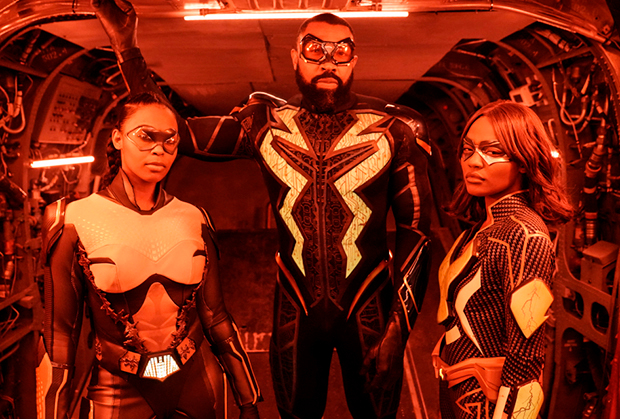 At the end of the fourth season, we saw Jefferson finally able to take retirement just as he had always wished. He wants to focus on reviving his relationship with his ex-wife Christine, who's chosen to get back together with Jeff. He was able to retire as he has been training the next batch of Freeland's defenders throughout the past four seasons. The new superheroes include his daughters, Anissa and Jennifer. However, it is not entirely a happy ending. The series Black Lightning was planned to run for five seasons by the creators. Meanwhile, The Black Lightning Season 5 would have given Jefferson and his family the happy conclusion they deserved.
While talking to EW, Showrunner Salim Akil revealed what he had planned for the fifth season. Akil stated, "In Black Lightning Season 5, I wanted to then go into the idea of a cohesive, beautiful working relationship between [the Pierce family], where we get rid of the tension and get to focus on the idea of actually saving the city and cleaning it up," He also added, "I wanted to see Freeland cleaned up, and I was really looking forward to the viewers being able to see how a person would go about it."
Painkiller's Origin Story!
Painkiller resembles the archetypal antihero from the Arrowverse. In any case, his origin tale is grounded in reality and features a mix of superhero cliches. High school student Khalil Payne loses hope after being seriously injured in a shooting.
His journey begins with grief, loss, and the decision to take a different course in life. When his hopes of competing in the Olympics and completing university drift away, he feels angry and alone. Tobias Whale, a ruthless and astute businessman, grants Khalil a second chance and transforms him into Painkiller, his merciless henchman. The plot eventually incorporates classic superhero arc elements, yet it is grounded in reality.
A Story About Family! 
In the world of Black Lightning, there are superheroes, vigilantes, and antiheroes. The series does, however, revolve around a family story. The Pierce family discovers their abilities, protects Freeland, and becomes closer in Black Lightning.
They're just a regular family who eats dinner every night. Jefferson and Lynn are like any other couple who is attempting to repair their relationship. At the same time, their girls are maturing into young adults. The Pierce family is just like any other family, except that they are superheroes.
Also Read Harley Quinn Season 3: First Teaser Video Revealed At DC's FanDome Event! Release Date & Harley's Fate