It seems like the new compliance officer would be asked by Goodwin to treat a suffering patient in Chicago Med Season 7 Episode 14. Maggie will help Halstead with a tricky case while dealing with the stress of a potential tumor. Moreover, Hammer will be dealing with some hard truths in the upcoming episode. So, keep reading to know all the details about episode 14.
Chicago Med Season 7 Episode 14 Preview: What Will Happen Next?
The fourteenth episode of Chicago Med Season 7 is titled " All the Things That Could Have Been." Goodwin will assign the hospital's new compliance officer to a patient suffering from a prolonged COVID condition. Maggie will help Halstead with a patient who has been in an iron lung for about sixty years. Moreover, Hammer will learn some shocking truths about her mother which would be tough for her to accept in the next episode. In addition, it will be thrilling to find out what Blake does after finding out that Marcel went out with her daughter.
A Quick Recap!
The previous episode began with Marcel waking up on Blake's couch. He was concerned about her health after getting poisoned during the surgery. Moreover. Dr. Charles ra into his therapist, Lobi, who avoided him when he tried to book an appointment. He was shocked to see Lobi's response to his request. Scott treated a pregnant woman named Mrs. Torres, who suffered from an infectious burn on her belly. Archer assisted Scott as the test results revealed that Mrs. Torres had Syphilis.
Further, Scott and Archer did not know how to break the news while the baby's life was in serious danger. Goodwin told them to inform the wife and encourage her to tell the husband. It turned out that the husband infected his wife. He cheated on her during pregnancy. Scott gave them both the medicines for the infection and advised the guilt-ridden husband to be with his family. Soon after, Mrs. Torres went into labor and Goodwin helped her with the delivery. Luckily, she gave birth to a healthy baby who was free of syphilis.
Maggie Might Have Cancer
Elsewhere, Maggie felt a little dizzy when she arrived at the ER. Taylor ran tests that revealed that she was pregnant. However, the ultrasound suggested that she might have a tumor and was not pregnant. Moreover, Arched pulled Marcel aside to ask if Blake was seeing someone. He responded that she was. Marcel and Hammer whose thigh was sliced. He was epileptic and had a seizure at the construction site. Hammer looked at the man's medical history and it was not good.
Unfortunately, the man had another seizure while talking to the doctor. So, Marcel gave him a placebo without telling Hammer. Hammer told the man who asked to see a superior. However, Archer managed to calm the man down and told the doctors to always speak the truth. Marcel apologized to the man and told Archer the truth about Blake. Archer commented to Marcel "May the best man wins."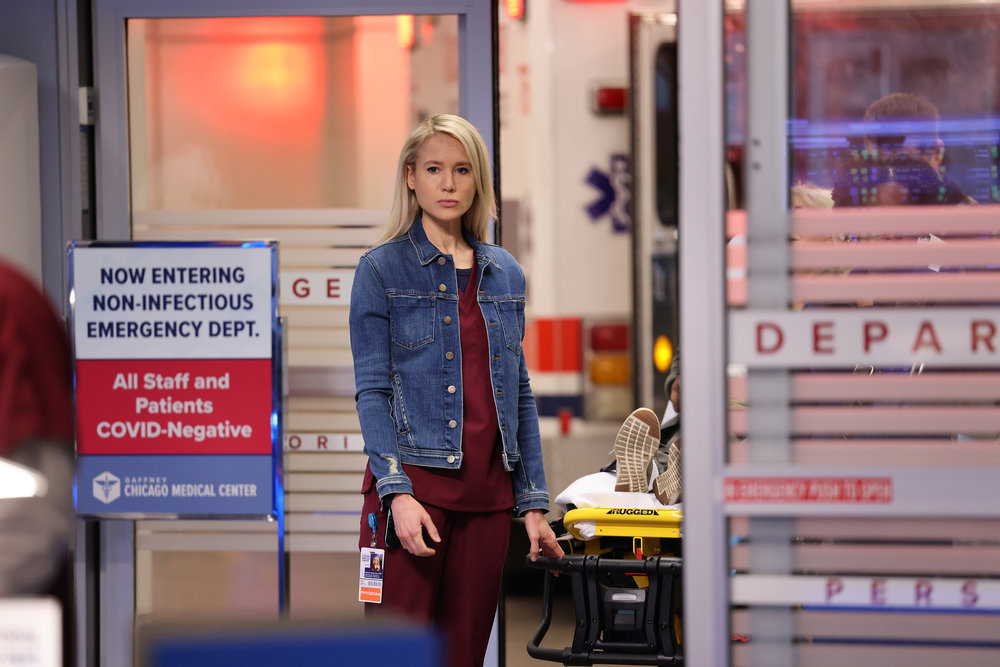 Hammer Gets Back With her Husband
Halstead was stunned to know that Hammer was making another effort with her estranged husband after seeing a wedding ring. He treated a patient named Mrs. Hendricks, suffering from Alzheimer's disease. Her stepdaughter Cindy was a nurse and asked for fast treatment. Halstead discussed the abnormalities of her diagnosis with Charles. Cindy was not fond of Charles talking to Mrs. Hendricks when she found out about his specialization. Charles found out that the doctor who diagnosed Mrs. Hendricks with the disease had died five years ago. It turned out Cindy convinced Mrs. Hendricks that she was losing her mind after Cindy was left out of her father's will. Being a nurse, Cindy easily managed to forge the results and the police took her away.
Eventually, Halstead told Hammer that he understood her decision to be back with her husband. Scott apologized to Carmen for cheating on her in the past. Charles found out that Loni had feelings for him when he asked her why she stopped seeing Charles. Marcel saw Blake after Archer asked her on a date. Marcel asked if she would go out with him and the two kissed. Blake's daughter saw the who incident and revealed that Marcel had gone out drinking with her before in Chicago Med Season 7 Episode 13.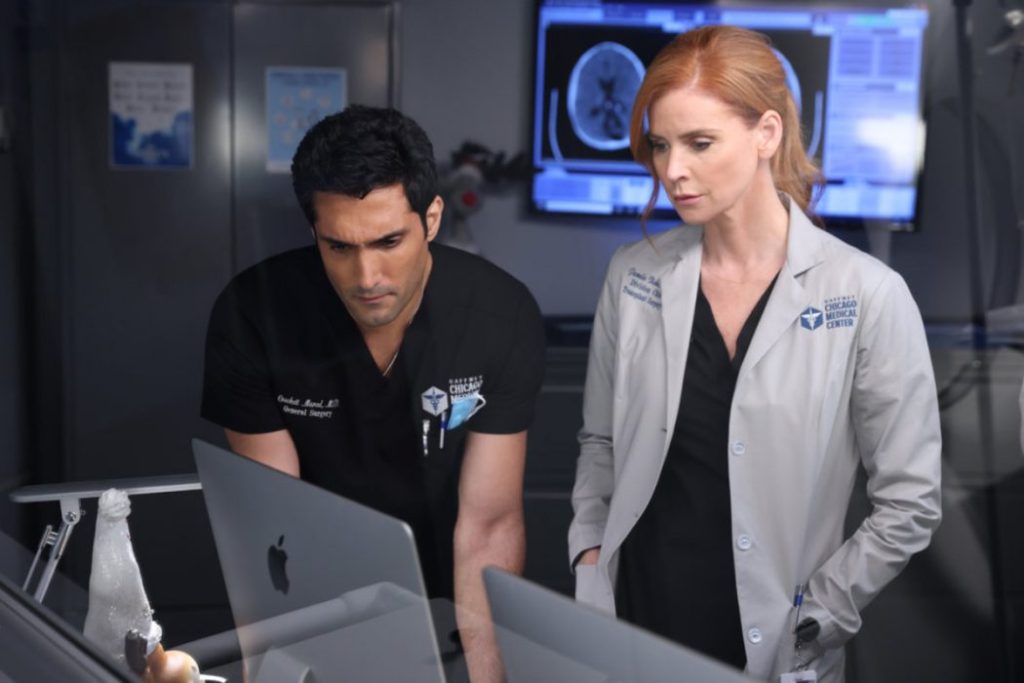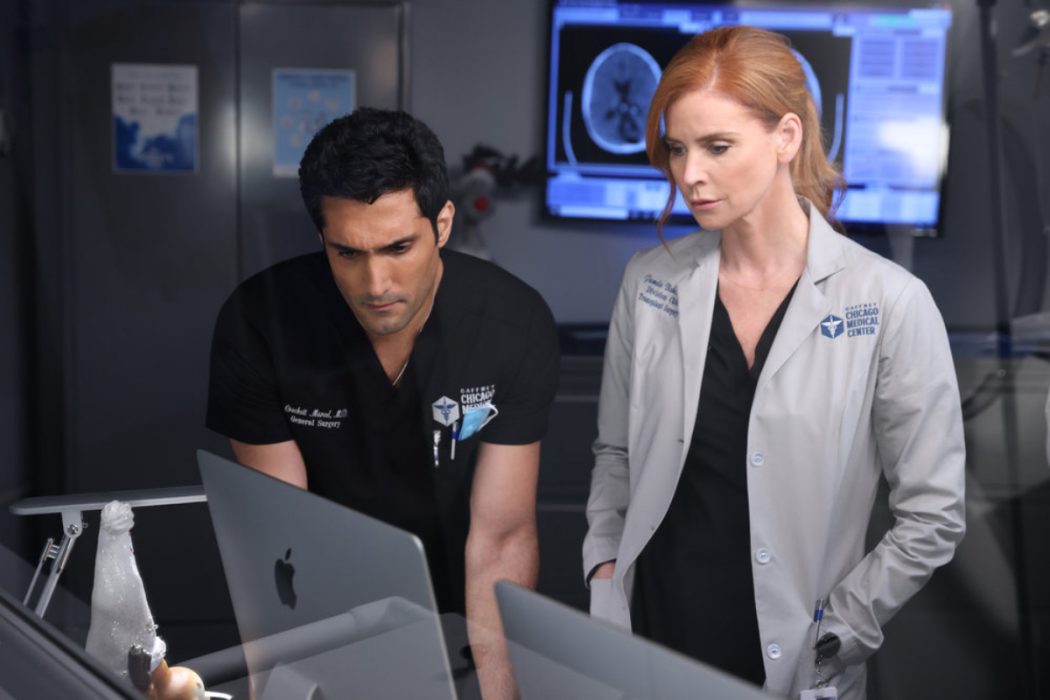 Chicago Med Season 7 Episode 14: Airing Date
NBC will air Chicago Med Season 7 Episode 14 on March 2, 2022. The network broadcasts a new episode weekly on Wednesdays at 8:00 p.m. ET. And each episode of the seventh season will have 45 minutes of estimated runtime.
Where To Stream The Latest Episode Online?
If you miss NBC's broadcast, you can stream the upcoming episode on the network's website and the NBC app. Moreover, the current season is available to stream on Peacock TV, YouTube TV, Fubo TV, Hulu+Live, USA Network, and Sling TV. So, don't miss out on episode 14, and stay tuned for more thrilling episode previews only on gotechbusiness.com.